CSR
Our commitment to ensuring current needs without compromising future needs.
The climate change and the need for a more sustainable use of our resources generate new needs to be implemented in the real estate sector.
From Espai Energy, we are committed with the fulfillment of the Sustainable Development Goals marked by the UN, the ODS of 2015.
The real estate companies that understand the importance of the ODS and act accordingly will be better positioned before shareholders, investors, financiers, employees, customers, regulators and public opinion.
We help our clients' assets make more efficient use of energy or its renewable generation, as well as those intended to use waste or improve the water cycle.
Sustainable development goals
Of the 17 objectives defined by the UN, there are 9 objectives that are directly related to the real estate sector: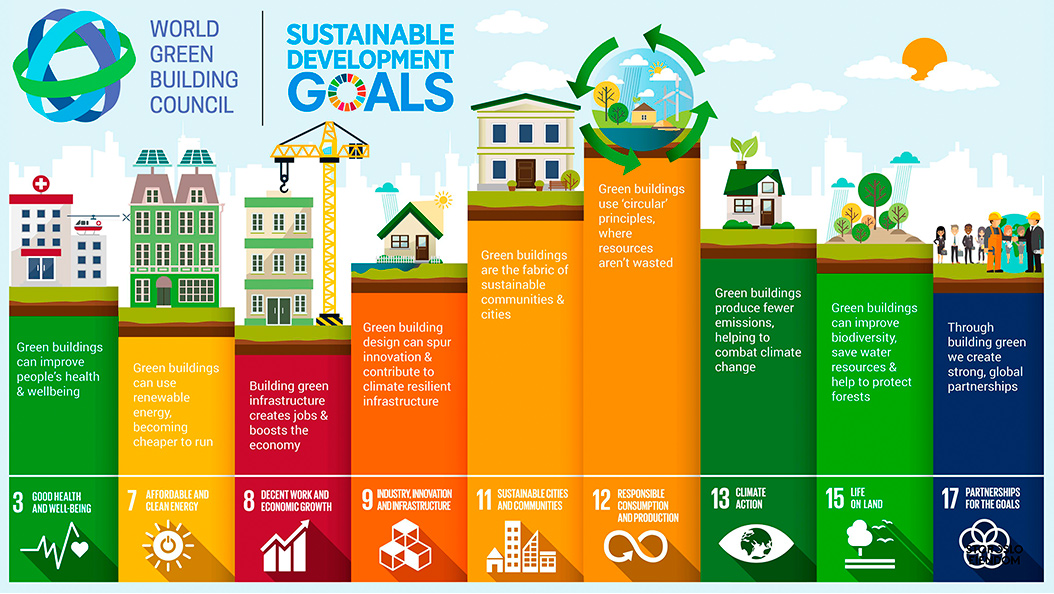 In Espai Energy we try to implement these goals in our projects:

Goal 3: GOOD HEALTH AND WELL-BEING
To ensure healthy lives and promote well-being for all people at all ages
El 90% del tiempo de una persona discurre dentro de edificios y por eso es fundamental que todos los espacios cerrados garanticen una vida saludable y promuevan el bienestar universal.

Goal 6: CLEAN WATER AND SANITATION:
Ensure the availability and sustainable management of water and sanitation for all people.
Water scarcity affects over 40% of the world's population. From EspaiEnergy we help to design buildings with water recovery systems and use systems to reduce water consumption in buildings.

Goal 7: AFFORDABLE AND CLEAN ENERGY:
Ensuring access to affordable, reliable, sustainable and modern energy for all
A good optimized architectural design is the non-polluting energy we have at our disposal. At EspaiEnergy we have the objective of reducing the energy demands of buildings in order to consume the minimum amount of energy to achieve comfort inside them.

Goal 8: DECENT WORK AND ECONOMIC GROWTH
Promoting inclusive and sustainable economic growth, employment and decent work for all.
A medida que la demanda de As the demand for green building grows worldwide, so does the workforce required to deliver it, and this is another goal to which green building can contribute significantly.

Goal 9: INDUSTRY, INNOVATION AND INFRASTRUCTURE:
Building resilient infrastructure, promoting sustainable industrialisation and fostering innovation.
The design and construction of green and efficient buildings will enigmatically impact not only on economic savings, but also on the reduction of CO2 emissions. Our aim is to design and construct NZEB buildings, using reused and environmentally friendly materials.

Goal 11: SUSTAINABLE CITIES AND COMMUNITIES:
Making cities and human settlements inclusive, safe, resilient and sustainable.
According to UN data, "cities occupy 2% of the Earth's surface, yet account for 60-80% of global energy consumption and produce 75% of CO2 emissions". The use of green transport (bicycles), using public transport or simply walking, must be encouraged to keep the air in our cities clean.

Goal 12: RESPONSIBLE PRODUCTION AND CONSUMPTION:
Ensuring sustainable consumption and production patterns.
Achieving sustainable management and efficient use of natural resources and reducing waste generation through prevention, reduction, recycling and reuse activities are two of the goals we must set ourselves from the building sector to achieve the objectives.

Goal 13: CLIMATE ACTION:
Take urgent action to combat climate change and its effects.
Each and every one of the agents involved in the construction of a building must be aware of all the measures that must be taken to reduce our pollution. From EspaiEnergy we accompany all the agents involved in the correct development of these measures to reduce CO2 emissions and combat climate change.

Goal 15: LIFE OF TERRESTRIAL ECOSYSTEMS:
To sustainably manage forests, combat desertification, halt and reverse land degradation and halt biodiversity loss.
Sustainable certificates such as BREEAM or LEED already evaluate the use of the land where we build and encourage us to build on already urbanized land or to select native vegetation to need less natural resources.