Certifications
We perform sustainability certifications, BREEAM, LEED, WELL, NZEB and Passive house. We offer advice from the first phase of the project to obtain them.
Sustainability certifications
We perform certifications of Sustainability, BREEAM, LEED, WELL and Passive house.
The certification is a guarantee given by an independent entity that the building complies with the established requirements, such as the level of interior comfort and the energy quality of the construction to the client.
The certification process guarantees exhaustive accuracy during the design and construction processes of the project, optimizing their costs.

In Espai Energy we offer an advisory service to guide the project team since the first phase of the design. We perform an analysis of compliance of requirements and cost evaluation.
We use a structured work process, Pre-evaluation, design phase and Post-construction, with well-defined milestones that allow us to optimise and simplify the work to obtain certifications.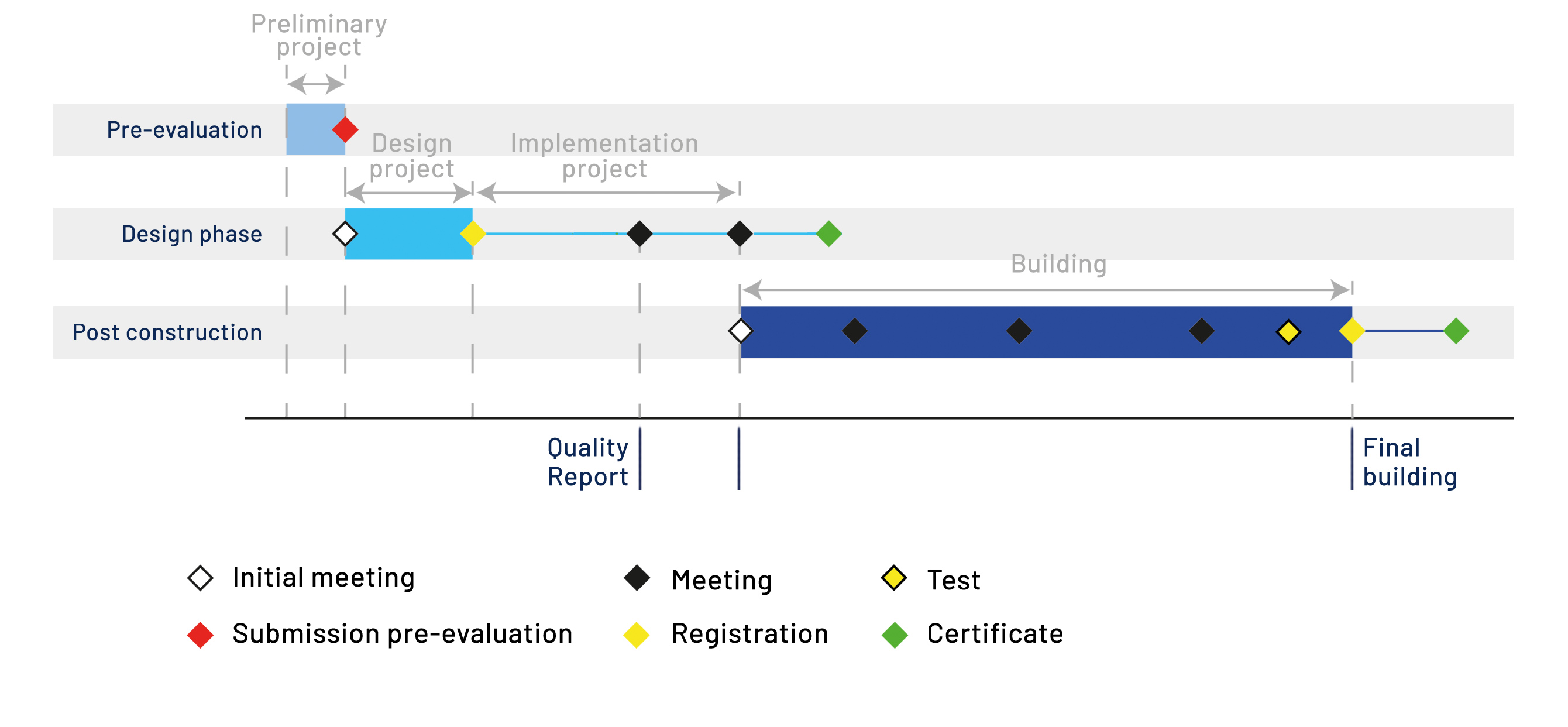 The benefits of Certifying:
Energy Saving
/ The emission to the atmosphere of harmful greenhouse gases is reduced.
/ A passive house consumes 75% less energy than a conventional house.
Acoustic insulation
/ The quality and thickness of the insulation and a high level of tightness of the construction reduce the transmission of noise from the outside.
Interior comfort
/ Increased user satisfaction and well-being: improvement of the internal environment and therefore improvement of the living and working conditions of the building users.
/ All rooms in the house have the same temperature in both winter and summer.
Air quality
/ Ventilation systems keep indoor air free of pollutants, eliminate odors and condensations.
Lower Maintenance
/ A certified building obtains reductions in water consumption of up to 40% and even reduces operating and maintenance costs by up to 30%.
Building value and international recognition
/ Owners can benefit from tax relief for having this type of certification. In addition, in some municipalities, zoning permits are improved and other incentives are obtained.
/ Operating costs are lower, while the value of the property increases.
/ All certified projects are awarded a plaque to be placed on the facade. In addition, the certifying companies guarantee that the certified projects are included in the international database of certified projects.
/ Added value: increases functionality, flexibility and life span and increases the value of the property by 7.5%.